3rd International Conference G.S.L Law & Consulting Luxembourg 2006
G.S.L law&Consulting Conference: "IPO and Tax Planning: Current Practice and Trends."
Welcome to the home page of the 3rd GSL International Conference 2006!
Organizing the 3rd GSL International Conference was a challenging task. Thinking about the new conference we tried to consider every detail and take into account the opinions of those who participated in our previous events. The general item of our discussions was, needless to say, the conference theme and its main idea.
According to some recent polls about 20% of companies potentially capable of entering the stock market consider the IPO (or Initial Public Offering) as a source for raising funds. And this is not accidental – IPOs offer a number of advantages as compared to other sources of financing. In addition to attracting supplies of money which can be used for financing investment projects including merger and acquisitions, the IPO can be used by owners to exit the business profitably. In Russia more than 40 companies declared their intention to make an IPO in 2006-2007, the general volume of attraction will exceed USD 3,0 billion.
IPOs and guaranteed stability of the equity capital invested in various financial instruments are the major issues facing business Russia now and calling for discussions. First of all this is due to the lack of practical experience and informational background. That is why the principal purpose of our conference is to INFORM and HELP the business community representatives to reach a new level of development.
The Conference participants will also learn about forming fund and trust structures guaranteeing protection of corporate assets!
Thus we chose the following title for our next GSL International Conference 2006 - «attraction. Investment. structuring». These are the three pillars of any civilized and economically developed society. The right choice of the investment strategy and instruments capable of yielding high profits in future will help modern business persons to achieve a leading position among their competitors!
It was hard to follow the high standards of the previous GSL Conferences in Bad Ragaz, 2003 and in St. Wolfgang, 2005. But the word challenge is the most frequently used term in our discussions which give us an urge to move on and on. The 3rd GSL International Conference will be held in Luxembourg. The Grand Duchy of Luxembourg is the center of the financial community and international asset management business, the world's leading banking and investment institutions there offer a wide range of services.
Hotel Le Royal - ideally located in the heart of Luxembourg City, between the green parks and the "mini Wall Street" – will host the 3rd GSL Conference.
Social events for the conference participants include a welcome cocktail reception in the abbey Abbaye de Neumunster, dinner in a picturesque European cuisine restaurant, excursion to the medieval castle Chateau de Vianden with a gala-dinner, medieval costume show, boat trip down the Moselle River and wine tasting in the cellars of Maison Du Vin.
These events of social activity will make your participation in the conference exciting and memorable.
Our conference is meant for wide participation, and first of all it is a must-attend for the professionals - lawyers, advisers, accountants and business persons wishing to keep up with the latest developments and trends in the area of international investments. New developments in the financial world will also be of interest to chief executives of law firms, financial and accounting departments of huge international corporations, top managers and private entrepreneurs.
Same as the previous time we chose an unusual format for our conference - trying to combine discussion of the problems characteristic to the Russian audience and specifics of international practice. The conference is scheduled in such a way as to provide enough time for informal socializing with foreign participants - government officers, lawyers, tax advisers, accountants and bankers - making as much as half of the audience. Here you can view references sent by the GSL INTERNATIONAL CONFERENCE 2005 participants.
Perhaps the key characteristics of the GSL Conference participants are a high level of professionalism and notable achievements in business or an ambition o achieve even more. If this is about you - join the GSL Conference!
The Conference program is carefully structured to offer an intensive professional input and networking opportunities: the participants will learn the latest developments and best practices in strategic business planning and investment and will have a unique chance to develop many contacts with representatives of European and Russian business establishment.
language of the Conference
English is the official language of the conference. Professional simultaneous interpretation into Russian will be provided. In other words - if you can understand English well enough, you can listen to the original presentations of the conference speakers, and if you prefer the Russian translation - use the earphones.
It was not by chance that we chose Luxembourg as a venue to host our 3rd International Conference - exquisite beauty of the country and modern splendour of Hotel Le Royal are sure to pinpoint the distinguished character of our conference providing every necessary facility and device for both: work and comfort.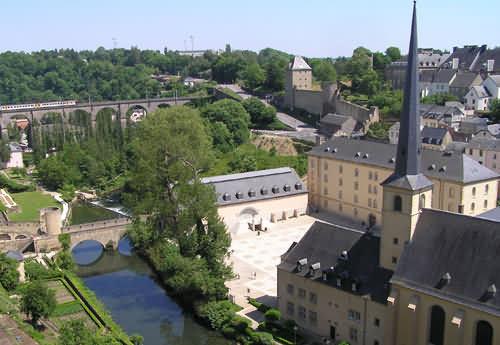 The Grand Duchy of Luxembourg is a small landlocked country in the centre of Europe. It has more than once played a crucial role in the European politics. International importance of this smallest member of the European Union is assignable to the fact that there is a considerable number of international bank organizations, centers and institutions in its capital. The scenery of Luxembourg is a delightful variety of hilly landscapes, picturesque villages, neat little towns and romantic castles. Amiable luxembourgers speaking their native Luxembourgish and clean mountain air will soon make you forget the grayness and bustle of big cities. It's high time you put aside your notebook and step out of your office: rolling green slopes and cozy narrow streets invite you to relaxation, excitement, adventure and lust for living.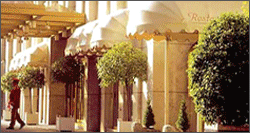 Hotel «Le Royal» is the biggest premium–class hotel within the Grand Duchy of Luxembourg. Among other things, it specializes in hosting presentations, original shows and corporate events.
Hotel Le Royal is ideally located in the heart of Luxembourg City, between the green parks and the "mini Wall Street," within walking distance of the old quarter of the city, and only a few steps from the main shopping area. The hotel features executive floors with special amenities. All rooms are equipped with individual air-conditioning, two-line telephones, 32-channel satellite televisions with interactive services, 24-hour Reuters stock exchange reports and CNN, fax machines, and personal computer connections.
Outstanding conference facilities, as well as designer rooms, all of which are spacious, elegant, entirely air-conditioned and fit to please the most highbrow esthetes, have been arranged to respond to the needs and comfort of the participants of the 3rd International Conference of GSL Law & Consulting.
GSL offers a new framework of the conference: lectures combined with discussion sessions –information presented as a mix between theory and industry experience facilitating easier understanding of the subject and creating opportunities for legal debate. Topics for the presentations were chosen to cover the most pressing and dominant problems of the international legal practice.
Conference and Panel Discussions Topics:
IPO as a part of corporate strategy for Russian legal Entities - What to take in mind. Notes of Respected Counsel. Strategy identification. Market and sector analysis. Capital costs evaluation: professional evaluators; capital planning in connection with IPO. Shareholders agreement analysis: potentials and methods of provision of capital sufficiency for IPO. Divestiture of assets, merging and acquisition of companies. Budget management possibilities and technique: budget reconciliation requirements control over deals of sale and acquisition of property, merging and acquisition of companies, investment projects participation. Nomination of board of directors and general director . Organization of employment relations and special rights of shareholders. Selection of jurisdiction legal regulation: liberalization of Russian laws for foreign currency regulation; pre-emission and post-emission regulation. Organization of secondary listing.

Speaker

:

Max Gutbrod

,

Max Gutbrod is a partner in Moscow office of Baker & McKenzie (CIS)
Practical tax experiences of IPO in Luxembourg.
Going IPO in Frankfurt. Listing opportunities in Deutsche Boerse.
Listing in London: Case Study, Key Criteria.
The growth of AIM: Why companies are signing up for the market".
Preparing a financial conglomerate for IPO. Case Study.
Bond Loans as an Instrument of Bank Financing. Eurobonds Issued under Security of Credit Portfolios.
Strategic Criteria for Choosing a Holding Company in Europe for the Purpose of Attracting Investments from an Eastern European perspective.
SICAR - Investment Vehicle for Venture Capital.
Tax planning opportunities involving jurisdictions of the European Union - Luxembourg case study.
Changes in the legislation of the British Virgin Islands: New Rules and their Implementation.
BVI Investment Funds: aspects of Establishment, Management and Taxation.
Hedge funds, sports cars of investment Startup & Compliance. Financial risks coverage: options and methods. Financial risks management; pillars for the following types of risks: costs, interests, exchange. Organizational types of hedge-funds. Hedge funds in commodity markets roles, interaction and functions of full and limited partners. Allocation of income and costs incurred with coverage of losses among the partners. Certified investor and SEC requirements (Securities and Exchange Commission) USA. Difference between hedge fund and mutual fund hedge funds . Investment policy - major requirements. Hedge-funds and collective investments funds: the advantages of hedge funds. Speaker: Peter Reichenstein, VP Bank and Trust Company, Director General, BVI
Works of Art Market: An Overview of Trends. Speaker:

Cornelia Pallavicini,

Christie's Auction House, Director of Business Development Russia, UK

Legal Aspects of Tax planning involving UK Companies. Prudent Management and Use of UK Companies in Corporate Construction
Getting a Residence Permit in Luxembourg: Legal Framework and Procedure for Applying.
Detailed Review of Deutsche Boerse procedures.
Choosing a jurisdiction for going IPO: comparative analysis. Speaker: Helmut Seitz
Max Gutbrod
Partner, Baker & McKenzie, Moscow
Hubert Grignon Dumoulin
Head of the Issuers Department in the Luxembourg Stock Exchange
Alexander Jaumotte
Director of Luxembourg office, PriceWaterhouseCoopers
Martin Steinbach
Frankfurt Stock Exchange
Jon Edwards
London Stock Exchange, London
Neil Matthews
Eversheds, London
Anja Taferner
Ernst&Young, Luxembourg
Cornelia Pallavicini
Christies Auction House
Rodney Milford
Partner, GSL, London
Helmut Seitz
Partner of Hasberger_Seitz&Partners, Austria
Dirk Dewitte
Tax partner, Deloitte, Luxembourg
Claude Kremer
Arendt & Medernach, Luxembourg
Dirk Dewitte
Tax partner, Deloitte, Luxembourg
Gabor Kacsoh
Vice-president, Experta Corporate and Trust, Luxembourg
Dawn Smith
Executive director of BVI Office in London
Robert Briant
Chairman of the Mutual Funds Advisory, British Virgin Islands
Piter Reichenstein
Director General, VP Bank and Trust Company (BVI), British Virgin Islands
Charles-Antoine d'Ansembourg
Vice-president and manager for wealth analysis & planning
Marian Valkov
Frankfurt Stock Exchang
Igor Basargin
Partner of Incor-Alliance, Russia
The key characteristic that makes GSL Conferences stand out from the crowd is a unique combination of business seminars and social events allowing the participants to get the best of the event. This is a chance to update your knowledge, find the best solutions for your business, establish new contacts through extensive networking and have some rest.
01 November (Day of Arrival)
21.30

Welcome cocktail. Mini presentations by the participants in

Hotel Le Royal
02 November (Conference Day 1)
09.00-09.15

Conference 1st day Opening

09.15-13.00

Speeches with coffee break

13.00-14.30 Lunch

14.30-18.15

Speeches with coffee break

19.30-21.30

Cruise on River Moselle. Dinner on board
03 November (Conference Day 2)
09.15-11.30

Speeches with coffee break

11.30-13.30

Panel discussions

13.30-14.45

Lunch

15.15-17.00

Free time

18.00-19.90

Tour around medieval town of Vianden

19.30-23.00

Costumed gala-dinner at the castle. Medieval show
04 November (Departure day)
08.00-09.00

Breakfast, departure
For your convenience we offer a number of different participation options depending on accommodation type and services included in the package. Please choose the one most appropriate for your needs and comfort.
Infoset package. Package Price: 350 EUR. Includes: conference materials (texts of presentations and practical guidelines)
Business package. Includes:

a

ccommodation in a traditional room of Le Royal hotel

,

delegate registration fee

,

Conference materials (texts of presentations and practical guidelines)

,

welcome reception

,

meals: breakfasts, lunches and dinners (during excursions as well)

,

participation in the official conference program including lectures and panel discussions, excursions. gala-dinner. Package Price: 2550 EUR.
Executive package. Includes: accommodation in a executive room of Le Royal hotel, delegate registration fee, Conference materials (texts of presentations and practical guidelines), welcome reception, meals: breakfasts, lunches and dinners (during excursions as well), participation in the official conference program including lectures and panel discussions, excursions. gala-dinner. Package Price: 3550 EUR.
VIP package. Includes: accommodation in a superior room of Le Royal hotel, delegate registration fee, Conference materials (texts of presentations and practical guidelines), welcome reception, meals: breakfasts, lunches and dinners (during excursions as well), participation in the official conference program including lectures and panel discussions, excursions. gala-dinner. Package Price: 4550 EUR.
Download Conference's brochure