How to open a bank account in IB INVESTICIJUBANKA
| Beginning of cooperation | Last contact | Last update |
| --- | --- | --- |
| March, 2014 | December, 2021 | March, 2021 |
GSL reference about the bank
Being professional intermediaries, we are limited in giving public opinion about some financial institutions. Please contact us directly to obtain more detailed feedback.
The main requirements of the bank:
- since March 2018, legislation has been introduced in Latvia obliging banks to stop working with non-resident shell companies, since they fall into the "high risk" category
- the bank opens multicurrency settlement accounts;
- an account can be opened in Moscow by meeting with a representative of the Bank;
- the minimum balance is 500 USD (for individuals) and 1,000 USD (for legal entities);
- the term for opening an account - case by case (check with the consultant);
- the bank opens merchant accounts for clients with internet business.
The bank was established in 2001 and currently the total share capital of the bank is EUR 32.33 million.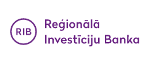 Expand all
Сollapse all
Bank's characteristics
General information and rating
Двигайте таблицу
| Global rating | Countrywide rating | Countrywide rating of the head bank | Global rating of the head bank | Credit rating |
| --- | --- | --- | --- | --- |
| Not rated | Not rated | — | — | N/R |
Двигайте таблицу
| | |
| --- | --- |
| Year of foundation | 2001 |
| History | IB INVESTICIJU BANKA was granted license on 14 September 2001. But it is 28 September 2001 which the bank believes to be its official founding date as it was then entered on the Register of Enterprises of the Republic of Latvia as Joint stock company 'Regionala investiciju banka'. The bank's total core capital at the start of 2014 stood at EUR 32.335 million |
| Personnel | The bank has Russian-speaking staff |
| Bank's shareholders | The bank's largest shareholder is Public Company Joint-stock bank "Pivdennyi", which owns 81.847% of the shares. It is the largest and the most stable private bank in the south of Ukraine. The remaining 18.153% of shares belongs to two legal entities and seven individuals |
| Confidentiality | Judicial Cooperation Agreement with Russia is signed; Double Taxation Agreement with Russia is signed; AML legislation is strictly observed |
Minimum requirements
Двигайте таблицу
| Minimum balance, € | Transactions permitted per month | Initial deposit of funds, € | Deadline for the initial deposit, month | Minimum turnover, €/year |
| --- | --- | --- | --- | --- |
| — | — | 1 000 | 0 | No restrictions |
Двигайте таблицу
| | |
| --- | --- |
| Transactions permitted per month | There are no restrictions as to the number of transfers |
| Initial deposit of funds, € | The minimum account balance for individuals is USD 500, for legal entities - USD 1,000 |
| How fast payments are executed | For EUR, a simple transfer with a transfer until 15.00 (Latvian time): value date - the same banking business day; urgent transfer with a transfer before 17.00: value date - the same banking business day (for 1 hour) |
Tariffs and services
Двигайте таблицу
| Outcoming transfer, € | Incoming transfer, € | Account maintenance, €/year | Payment limit for credit cards, €/day | Funds to be blocked for CC issue, € |
| --- | --- | --- | --- | --- |
| 20 | 0 | 240 | 700 | N/A |
Двигайте таблицу
| | |
| --- | --- |
| Outcoming transfer, € | Fees for EUR transfers: ordinary – EUR 12 (SHA), 20 EUR (OUR); urgent – EUR 22 (SHA), EUR 30 (OUR); express – EUR 27 (SHA), EUR 35 (OUR) |
| Incoming transfer, € | There is no charge on incoming transfers |
| Account maintenance, €/year | Account opening fee is USD 50 (for individuals) and USD 200 (for legal entities). Annual maintenance fee is not charged to individuals; for legal entities the maintenance fee is USD 20 per month. Account closing fee (for current accounts) is USD 100 |
| Payment limit for credit cards, €/day | The daily limit for debit card Maestro is EUR 700; for MasterCard Mass – EUR 1 500; for MasterCard Business – EUR 2 000; for MasterCard Gold – EUR 2 000; for MasterCard WORLD ELITE – EUR 3 500 |
| Distant access to the account | Internet banking with free-of-charge connection and maintenance. Issue of codes card is USD 5. Connection of an electronic calculator Digipass is USD 70 |
| Financial products | The bank offers a full range of baking services: multi-currency accounts, Internet banking, transaction accounts, transfers and remittances, international payment cards, e-Commerce, exclusive payment card World Elite, loans and commercial finance, investment and broker services |
| Credit/debit cards | Maestro debit card (issue fee – EUR 25, second-year annual fee – EUR 25, minimum balance – EUR 35). MasterCard Mass card (issue fee – EUR 50, second-year annual fee – EUR 50, minimum balance – EUR 200). MasterCard Business card (issue fee – EUR 80, second-year annual fee – EUR 80, minimum balance – EUR 300). MasterCard Gold card (issue fee – EUR 150, second-year annual fee – EUR 150, minimum balance – EUR 700). MasterCard card WORLD ELITE (issue fee – EUR 1000, second-year annual fee – EUR 1000) |
Account opening procedure
Двигайте таблицу
| Days to open for incoming transfers | Days to open for outcoming transfers | References | Business description | Purpose of the account |
| --- | --- | --- | --- | --- |
| case by case | case by case | Not necessary | Detailed | Current |
Двигайте таблицу
| | |
| --- | --- |
| Visit to the bank | No visit to the bank is required as the bank has a representative office in Moscow |
| Required | A standard set of corporate documents. Photocopy of the account holder's passport |
| Types of accounts | Personal; Corporate; Current |
| Opening procedure and Due Diligence | It is possible to open an account without visiting the country where the bank is located |
| Chances to open an account | Predictable |
| Business description | Relatively detailed: in addition to the description of the business, the origin of funds needs to be disclosed |