British Virgin Islands
Basic taxes (briefly)
| | |
| --- | --- |
| Personal tax | 0%; 10%-14% с ФОТ |
| Corporate tax (in detail) | No - for offshore companies |
| | |
| Capital gains tax. Details | |
| VAT. Details | |
| Other taxes | payroll tax for companies hiring local employees |
| Government fee | 350 USD |
| Stamp duty | No |
International tax agreement
| | |
| --- | --- |
| Tax treaties entered | Switzerland |
| | |
| Tax Exchange Information Agreement (TEIA) | Aruba, Australia, Canada, China, Curaçao, Czech Republic, Denmark, Faroe Islands, Finland, France, Germany, Greenland, Guernsey, Iceland, India, Ireland, Isle of Man, Japan, Korea (Republic of), Netherlands, New Zealand, Norway, Poland, Portugal, Sint Maarten, Sweden, Switzerland United Kingdom, United States |
---
Show all entries
Hide all entries
TAXES
Payroll Tax
BVI Business companies are exempt from any taxation, regardless their source of income. The only tax existing in the BVI is payroll tax for companies employing local working force; the current rate is 8%, first $10 000 are tax exempt.
Annual government fee
• Companies with a share capital up to US$50,000 pay US$350 per year.
• Companies with a share capital more than US$50,001 pay the sum of US$1,100 per year.
Stamp Duty
A 12% is charged on property transactions within the BVI.
Capital Gains Tax
No
VAT
No
Withholding Tax
Dividends – No
Interest – No
Taxation of Trusts
Trust income is exempt from tax if:
- the trust is created by or on behalf of a non-resident person; and
- owns no land in the BVI; and
- does not carry on business in the BVI.
Personal Income Tax
No
Foreign exchange control
No
Social Security
Payroll tax for employees in the BVI at the rate of 8%:
Employer - 4.5% of the employee's salary
Employee - 4%
The first $10,000 is exempt.
Real Estate Taxes
Land Tax - a $50 tax is levied per acre. Building Tax - The annual tax rate is 1.5% of the annual rental income.
ACCOUNTS
Accounts
A BVI BC must keep records and accounts sufficient to illustrate the company's transactions and determine its financial position. The accounts are not audited or submitted to any authorities or available for public inspection.

The recent amendments to the legislation, namely Mutual Legal Assistance (Tax Matters) Act, 2012, have introduced an obligation to keep accounting records and underlying documents for at least 5 years (at the office of the company's registered agent or at such other place as determined by the directors).

The BVI Business Companies Act imposes a penalty for not keeping accounting records, ie a fine of USD 10,000. If, however, a company fails to provide accounting records in compliance with international request pursuant to one of the BVI's Tax Information Exchange Agreements, the fine will be up to USD 100,000, besides the Act also provides for such penalty as imprisonment for a term of up to 5 years.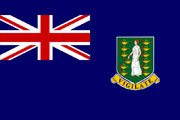 Taxes of BVI
| | |
| --- | --- |
| | |
| Min. rate for corporate tax | No |
| | |
| Capital gains tax | No |
| VAT | No |
| Withholding tax | No |
| Exchange control | No - for offshore companies |