How to open a bank account in CIM Banque SA
| Beginning of cooperation | Last contact | Last update |
| --- | --- | --- |
| January, 2005 | December, 2021 | April, 2021 |
GSL reference about the bank
Being professional intermediaries, we are limited in giving public opinion about some financial institutions. Please contact us directly to obtain more detailed feedback.
Primary requirements:
- in addition to the package of corporate documents, when opening an account from August 1, 2019, the Bank requires:
- confirmation of location in the country of registration of the company (lease agreement, lease of a separate office);
- confirmation of the implementation of effective management in the country of registration (employment contracts with employees);
- confirmation of reporting preparation;
- if the company does not provide documents confirming its real presence in the country of registration, it will be recognized as passive, and at the end of the year information on it will be transferred to the tax authorities within the framework of the "automatic exchange";
- an account can be opened remotely (video conference);
- Requirements for the minimum account balance - CHF 10,000;
- the term for opening an account - case by case (check with the consultant).


A rare case in the Swiss banking market:
CIM Banque does not require high minimum balances;
CIM Banque does not object to the use of the account for SETTLEMENT purposes;
CIM Banque remains focused on the Russian market to this day.
However, the main drawback is that the Bank does not open accounts for offshore companies.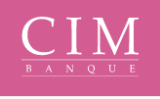 Expand all
Сollapse all
Bank's characteristics
General information and rating
Двигайте таблицу
| Global rating | Countrywide rating | Countrywide rating of the head bank | Global rating of the head bank | Credit rating |
| --- | --- | --- | --- | --- |
| 4 637 | 112 | — | — | N/R |
Двигайте таблицу
| | |
| --- | --- |
| Year of foundation | 1990 |
| History | It was founded in 1990 as Unibank (Suisse) SA and changed its name to CIM Banque in September 1993 |
| Personnel | The bank has Russian-speaking staff |
| Bank's shareholders | The bank is owned by 2 companies: Cofisi SA – 87.17%, Aurocofisi SA – 12.83% |
| Confidentiality | Judicial Cooperation Agreement with Russia is signed; Double Taxation Agreement with Russia is signed; AML legislation is strictly observed; Active member of OECD, FATF, Basel Commitee, Egmont Group etc. |
Minimum requirements
Двигайте таблицу
| Minimum balance, € | Transactions permitted per month | Initial deposit of funds, € | Deadline for the initial deposit, month | Minimum turnover, €/year |
| --- | --- | --- | --- | --- |
| 10 000 | No restrictions | 10 000 | 1 | No restrictions |
Двигайте таблицу
| | |
| --- | --- |
| Minimum balance, € | The usual practice of the bank is to wish for an account balance of at least CHF 10,000 |
| Transactions permitted per month | The bank has no restrictions on the number of transactions |
| Initial deposit of funds, € | To activate the account, you need to transfer an amount of 10,000 CHF or the equivalent amount in USD or EUR |
| Deadline for the initial deposit, month | The initial deposit needs to be made within 1 month |
| Minimum turnover, €/year | The bank does not have the minimum turnover |
| How fast payments are executed | Payment execution speed: the usual option is the value date - the third day. Express transfer: value date - the same day (in this case, double tariff will be charged) |
Tariffs and services
Двигайте таблицу
| Outcoming transfer, € | Incoming transfer, € | Account maintenance, €/year | Payment limit for credit cards, €/day | Funds to be blocked for CC issue, € |
| --- | --- | --- | --- | --- |
| 100 | 123 | 380 | 5 000 | 10 000 |
Двигайте таблицу
Outcoming transfer, €
Стоимость исходящих платежей в EUR (платеж за пределы ЕС и Швейцарии, интернет-банкинг) будет зависеть от суммы: от 0 до 1 999 EUR - 10 EUR; от 2 000 – 4 999 EUR - 15 EUR; от 5 000 до 19 999 EUR - 25 EUR; от 20 000 до 49 999 EUR - 50 EUR; от 50 000 до 99 999 EUR - 100 EUR; от 100 000 до 199 999 EUR - 150 EUR; от 200 000 до 499 999 EUR - 250 EUR; от 250 000 до 999 999 EUR - 350 CHF; от 1 000 000 до 1 499 999 EUR - 450 EUR; от 1 500 000 - 0,030%
Incoming transfer, €
Стоимость исходящих платежей (платеж за пределы ЕС и Швейцарии, интернет-банкинг) будет зависеть от суммы: от 0 до 1 999 CHF - 15 CHF; от 2 000 – 4 999 - 30 CHF; от 5 000 до 19 999 - 50 CHF; от 20 000 до 49 999 - 100 CHF; от 50 000 до 99 999 - 150 CHF; от 100 000 до 199 999 - 250 CHF; от 200 000 до 499 999 - 350 CHF; от 500 000 до 999 999 - 450 CHF; от 1 000 000 до 1 499 999 - 550 CHF; от 1 500 000 - 0,035%
Account maintenance, €/year
Account opening fee (less than CHF 20,000) - CHF 150. The cost of maintaining an account is 120 CHF per quarter (for legal entities and 90 CHF per quarter (for individuals). The fee for closing an account is 300 CHF. If the initial payment exceeds 20,000 CHF, the fee for opening an account is not charged
Payment limit for credit cards, €/day
The minimum payment limit is 5,000
Funds to be blocked for CC issue, €
Insurance coverage is 100% of the payment limit. Thus, for a minimum limit of 5,000, the insurance coverage will be 10,000.
Distant access to the account
Банк предлагает управление через Интернет (Digipass - 100 CHF; плата за интернет-банкинг включена в плату за обслуживание счета). Вам предоставляется возможность осуществлять банковские операции. Также Вы сможете просматривать счет, выполнять переводы, заниматься онлайновым трейдингом на рынках Форекс и фьючерсов и других инвестиционных инструментов, а также давать распоряжения для осуществления операций с ценными бумагами
Financial products
Financial and investment advice. Trust management. Lombard loan. The Bank has a separate department "International Trade Services", which offers bank guarantees and full collateral accreditation
Credit/debit cards
Visa, Mastercard, American Express. Issue of credit cards MasterCard, Visa Gold CHF - 200 CHF + annual commissions 400 CHF; 1% guarantee per year (minimum CHF 120). Swiss Bankers, Visa, MasterCard prepaid cards - free issue and annual service; activation - 45 CHF; usage cost - from 1 EUR per transaction. In addition to credit cards, the bank issues debit cards, which means "I spend as much as there is on the card account." In addition, Swiss Bankers Travel Cash cards are available
Hold mail
Postage costs - 100 CHF annually + 25 CHF monthly. In the case of using Internet banking, it is possible to exclude mail storage from the costs
File with tariff
Fees CIM

(May, 2016, 42.63 KB)



Account opening procedure
Двигайте таблицу
| Days to open for incoming transfers | Days to open for outcoming transfers | References | Business description | Purpose of the account |
| --- | --- | --- | --- | --- |
| case by case | case by case | Not necessary | Detailed | Savings & current |
Двигайте таблицу
| | |
| --- | --- |
| Visit to the bank | No visit to the bank is required, but it is necessary to meet the bank's representative within 6 months of account opening |
| Required | Original or apostilled copies of corporate documents, company's balance-sheet, apostilled copies of passports of shareholders, directors and signatories to the account |
| Types of accounts | Personal; Corporate; Current |
| Opening procedure and Due Diligence | It is possible to open an account without visiting the country where the bank is located; It is possible to open an account without meeting the banker |
| Chances to open an account | Predictable |
| Business description | Relatively detailed: in addition to the description of the business, the origin of funds needs to be disclosed |